The startup culture in Vancouver is not only thriving, it's growing. It's become a trend of it's own that inspires, and encourages everyone to join in. People who move to the city see and experience this first hand, and realize that when surrounded by the energy here, there isn't anything they can't do. The world is your oyster in Vancouver, but how did that come to be? Why is Vancouver such a hot-bed of self employed creatives?
As part of an ongoing series, we'll be meeting and interviewing creative entrepreneurs in Vancouver to see how and why they think this has happened, how they've benefited from it, and what makes them tick as an entrepreneur; we want to know, "Why Vancouver"
This week is our last interview in the series, and we're coming full circle by featuring L'Atelier founder and owner, Sabrina! If you've been into the office, you will of course know Sabrina, but if not, here's to chance to get to know her a little bit. Sabrina tells us more about why she came to Vancouver, and why she thinks Vancouver is such a great place to have a thriving small business.
Thanks for reading this series, we'll be back in the new year!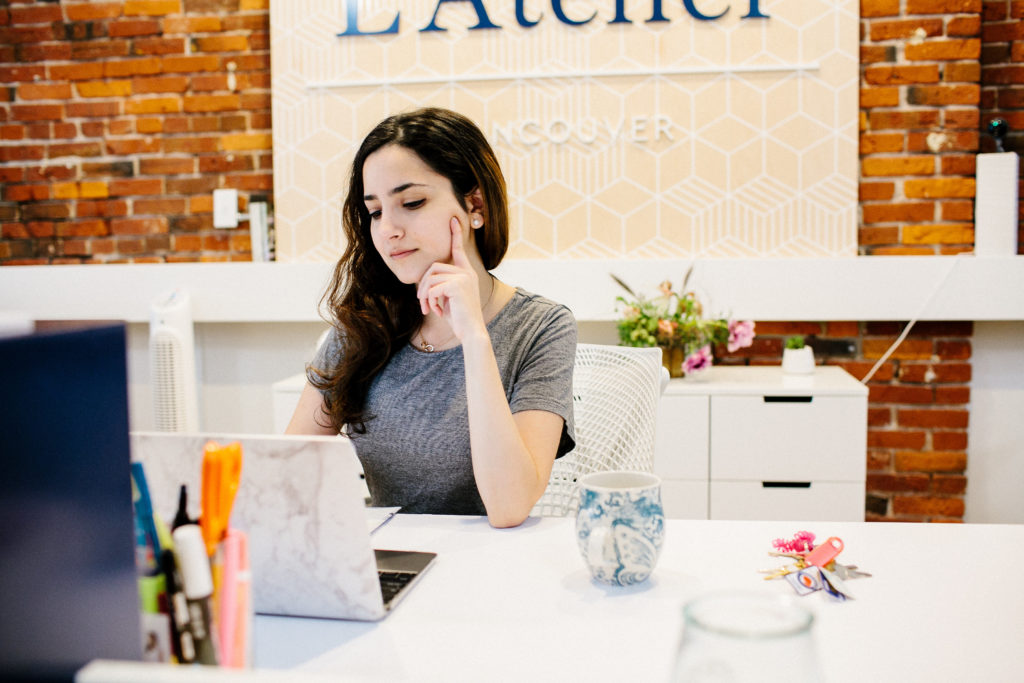 Photo by Alexa Mazzarello Creative
"There are a number of logical reasons why I picked Vancouver and a million life events that lead me to one day wake up and decide I was going to move to Vancouver. However, when I think of all the other places I could have ended up in, Vancouver sounds completely random and absurd! I come from a tiny country called Lebanon that's the third of the size of Vancouver Island and is literally located on the other side of the planet.
Logical reasons I ended up here: I had Canadian citizenship that I inherited from my parents, I used to work in the film industry (and Vancouver is nicknamed Hollywood North because of all the movies being filmed here), and I used to live in LA and love the West Coast vibes. Emotional reasons I moved to Vancouver and decided to stay in Vancouver: I fell in love with the city the first time I saw Stanley park and biked around the sea wall two years before I actually decided to move there. I instantly felt that I belonged and that it was my city. When I finally decided to move to Vancouver, I expected to have a very difficult time finding a job and making friends.
However, I landed my first gig on a film set the week after I moved and I got a job with a production company 3 weeks later! I now have more actual friends and connections in Vancouver than any other city I lived in! Plus, I met the love of my life in Vancouver exactly 23 days after I had moved and that is insane!"
Everyone I met who decided to move to Vancouver says the same thing: Vancouver is a happy place. There is a great work/life balance lots of nature, greenery, and exceptional people.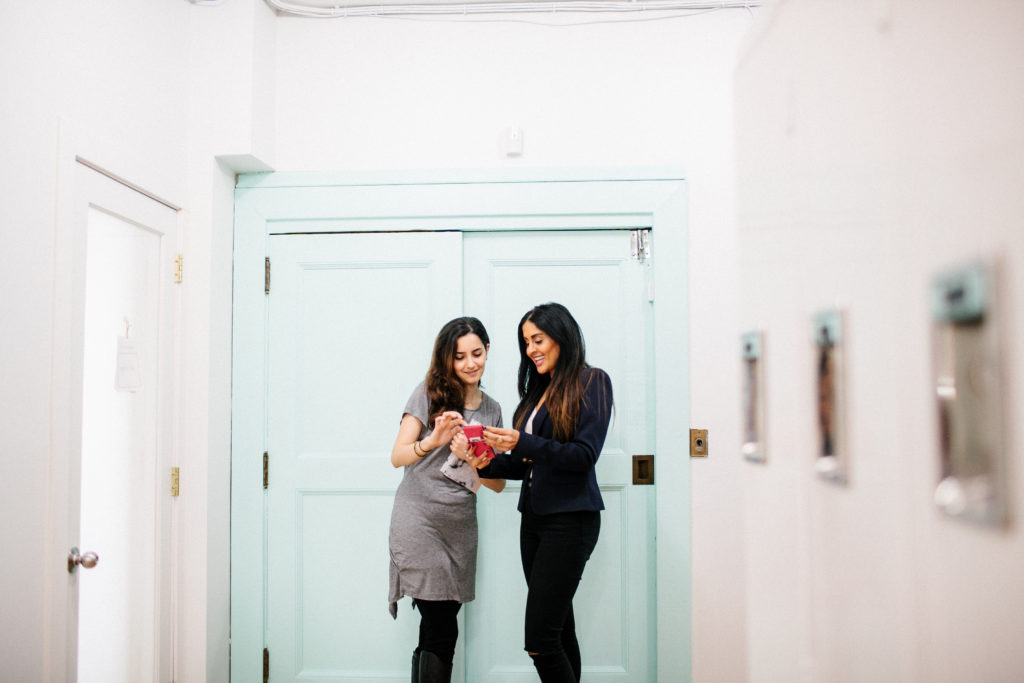 Photo by Alexa Mazzarello Creative
1. Do you have a favourite cafe or local spot to work from?
I love coming to work at L'Atelier because I designed it exactly how I would want my ideal workspace to look and feel. There are good vibes as soon as you walk in, the space is colourful and bright and allows me to be very productive and even the most mundane tasks are pleasurable. Before I started L'Atelier, I used to work from coffee shops around Gastown. My favourites were Birds and the Beets and Buro.

2. What's your favourite music to listen to whilst working?
There is a productivity playlist on Spotify that I follow but I also love listening to Ludovico Einaudi. He is a modern classical music composer and his pieces usually fit my general mood. 

3. What's your favourite thing about fall in Vancouver?
Having lived in Boston and Los Angeles in the past, I think Vancouver is a happy middle with mild temperatures and no snow! The rain doesn't bother me at all. I actually find it soothing and comforting.
4. What's one thing you can't live without?
My teenage self wouldn't agree but I wouldn't want to live without work. Yes, vacations are amazing but after a few weeks, doing nothing gets really boring and I I wouldn't know what to do with myself. I love keeping myself busy, solving problems and facing challenges. It gives me a sense of purpose and makes me feel alive and useful.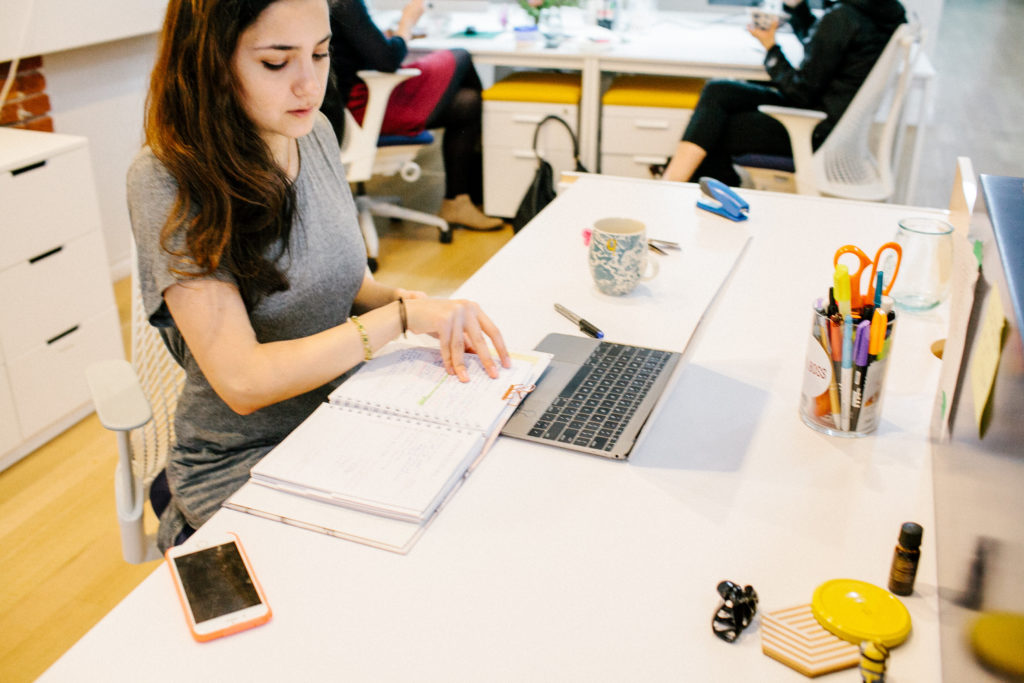 Photo by Alexa Mazzarello Creative
5. What's the best advice you've ever been given as freelancer/ solopreneur?
When everything is going wrong remember that it will not always be that way and remind yourself of how far you've already come! You probably never imaged you would have accomplished all those things and there are many more surprises and good moments that await.
If you liked this post, let us know! We want YOU to be part of our community - so send me a message ([email protected]) and you can join in on one our community events, or be part of this blog series! Join the conversation!
Published by: lucy in Bloggers, Business, Community, Coworking, Creative Entrepreneurs, Events, Features, Freelancing, Graphic Design, L'Atelier, Members, Photography, Self Employment, Small Business, Vancouver