This summer I noticed something; people in Vancouver are doing what they love - forging their own way and taking big risks for business. They're saying no to office jobs, and working for small companies, or multiple companies, or themselves! We're creating our own job roles here and hustling all over town. It's particularly common in our little city, (and on the west coast in general, hello tech boom in California) but how and why did it happen? Why is it that people in Vancouver branch out on their own and take the big leap into the self employment or freelance life? 
As part of an ongoing series, we'll be interviewing creative entrepreneurs in Vancouver to see how and why they think this has happened, how they've benefited from it, and what makes them tick as an entrepreneur; we want to know, "Why Vancouver".
First off though, let me introduce myself. If you've been into the office here at L'Atelier, you might have seen me around – I'm Lucy, the British girl sat to the right hand side of the front desk. As part of the team at L'Atelier, my main focus is creating opportunities in which we can help each other to thrive and grow - something I'm truly passionate about. Need something  in the office? Stuck on a business idea? I'm your girl!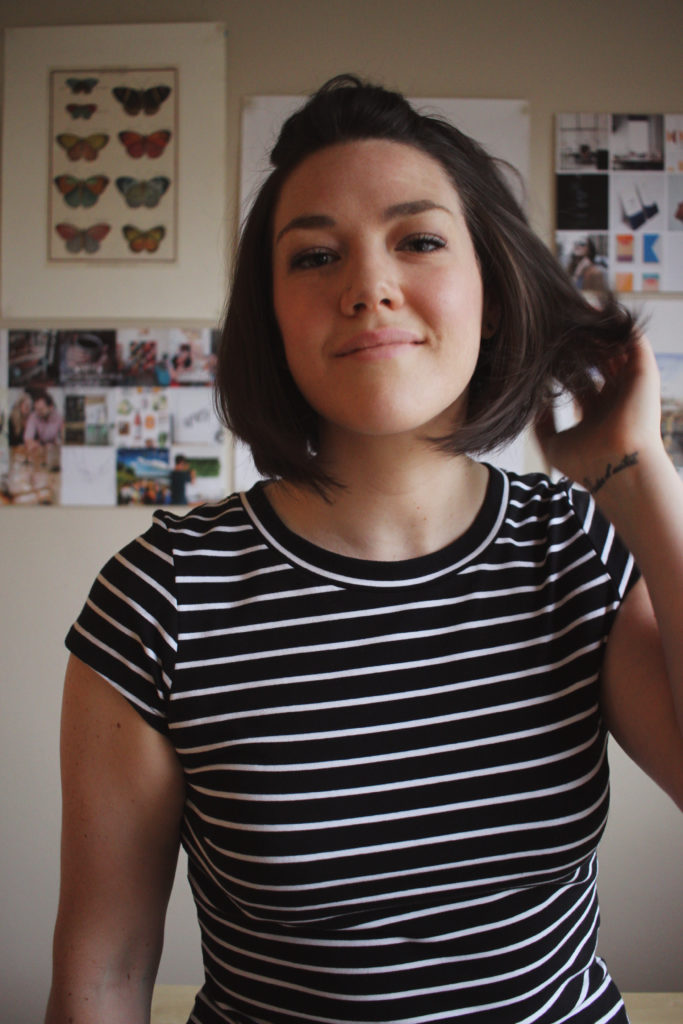 Outside of L'Atelier, I'm a busy bee hustling for 3 creative agencies as a graphic designer, social account manager and more! I co-own Salt Design Co. with my business partner and gal pal Daphne Wong, and do the rest of my work remotely, hence the need and love for a space like L'Atelier!
I started on the freelance rollercoaster because I've always wanted to be self employed, but also because it became necessary; finding a full time job as a designer is tough! Very few agencies in Vancouver want to make that commitment, and there's very little movement or turnover of studio jobs. But, with multiple part time gigs available to me, I pulled them together and made one crazy complicated job instead. This is in me, it's a way of life I've been working towards long before I moved to Vancouver, but what I've found, is that it's possible to do it here. Being surrounded by others who are also doing their thing, enables me to carve out my self employment dreams. I truly don't believe it would be as easy (hah!) to do so back home in England.
Stay tuned for weekly interviews with other creative "do-ers" on the topic of "Why Vancouver", and in the meantime, check out my fave's for getting sh*t done:
1. Do you have a favourite cafe or local spot to work from?
Yes! When I was studying, I found that Prado in Gastown was high on my list. Despite the awkward bathroom situation (If you've been, you'll know what I'm talking about), they have decent music, good food and coffee (plus they let you eat your own food!) and the wifi ain't half bad. More recently though, I enjoy working from Lost and Found in Gastown, or Craft in Olympic Village. If you've never thought about working from a restaurant during the day, you're missing out! Waitress service, comfy booths…. Beer on tap, you really can't go wrong 😉
2. What's your favourite music to listen to whilst working?
If I need to focus, no music at all. If I want something on, I actually prefer to listen to BBC Radio 1. As far as radio goes, Canada kinda sucks. So I listen to my home country's favourite station; With a mix of musical genres, live music covers and decent conversation, it's been a firm favourite since I was a pre-teen. (p.s install an extension on your browser to get around any country/ I.P issues - it's well worth listening to!)
3. What's your favourite thing about summer in Vancouver?
Last year I would have had said the heat. For a few glorious months, that heat and humidity is amazing. But this year…. well, my favourite thing about summer in Vancouver is the sheer number of events that take place! There's always something going on, and if you happen to miss it, chances are it will happen again next year, so no need to worry about missing out. 
4. What's the one thing you can't live without?
Good friends and great conversation. And toast, there's always got to be toast.
5. What's the best advice you've ever been given as an entrepreneur/small biz owner?
Nail your elevator pitch. (I'm still working on this, not gonna lie)
If you liked this post, let us know! We want YOU to be part of our community. Send me a message ([email protected]) and you can join one our community events, host a workshop or even be part of this blog series!